Biography
---
Sue Blair
CEO and Director of Elections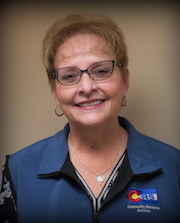 Background Summary
Sue Blair has an extensive background providing over 30 years of administrative, management and paralegal expertise to special districts and municipalities in Colorado.
Sue has a broad understanding of key aspects of governmental taxation issues, auditing, budgeting, contracting, elections, property ownership issues, sales and tax collection, utility billing, and statutory and constitutional requirements of special districts. Her insurance administration expertise includes the ability to review various insurance needs of each district, discuss these needs with insurance agents and underwriters, and secure the types of policies required to fill those needs. Sue has provided oversight and administration for numerous construction projects, and has implemented control systems for staff to follow on specific projects. She is well versed in drafting resolutions, municipal ordinances and legislation, as well as district rules and regulations.
Sue has been involved in numerous innovative inclusions and exclusions of property within special districts. Her expertise in organizing, overseeing, and supervising all aspects of district and municipal elections has brought her recognition throughout the State. She has worked with the Division of Local Government and the Special District Association to conduct statewide training of election judges. Her election duties have included appointment by the district court to act as an administrative hearing officer for election issues, as well as supervising the verification of thousands of petition signatures in a highly publicized recall election. Sue's experience in local government management and administrative matters translates to a solid understanding of both legal and policy issues that effect local governments.
Sue's Career Experience Highlights of over 30 years include:
Leading the incorporation and election of City of Lone Tree. She remains the City's designated election official.
Establishing policies and procedures for financial management of sales and use tax, public improvement fees, building department administration and liquor licensing.
An appointment by Adams County District Court to server as an Administrative Hearing Judge.
Managing countless ballot initiatives / elections, ranging from over 40,000 petitions to multiple district and municipal elections.
Serving on numerous Legislative Committees that have reviewed and improved the following statuary provisions: Election Code, Budget and Financial Compliance and District formulation.
An instructor for the Division of Local Government Budget Training Sessions and numerous County wide election judge training sessions exceeding over 100 participants on occasion.
Managed billing operations of over 90,000 customer accounts annually, and supervised all customer service representatives.
Copyright© 2012 Community Resource Services, LLC