Biography
---
Jim A. Worley
Senior Manager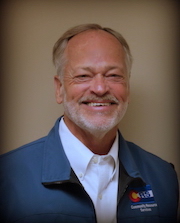 Jim A. Worley has 30 years' experience in the efficient and effective management of Colorado Special Districts with a talent for creating positive community/entity interaction and possessing a wealth of personal relationships in the development and governmental communities. He has extensive experience in water and sewer operations.
Jim's Career Experience Highlights:
Jim has managed all phases of districts, including district formation, administrative management, bonding, budgeting, long-range planning, operations and management of district facilities, governmental compliance with state agencies.
Jim continues to serve as a liaison with various governmental entities throughout the state.
Throughout his career, Jim has managed Water Districts, Sanitation Districts, Park & Recreation Districts and Authorities established through the State.
Jim current serves as a Board member and Chairman for the Highlands Ranch Metropolitan District.
Former General Manager for the Highlands Ranch Metropolitan Districts during a time when Highlands Ranch was considered the fastest growing community in the US.